I spoke to Peter from very good Brooklyn based indie band Peaer, about their imminently releasing second album 'A Healthy Earth', due out on the 16th of August. Here's what he had to say.
---
First of all, I asked why they went with that title for the album.
"We went through a lot of titles when we were trying to finish this album and nothing seemed to really stick. "We wanted to imply on the concept of "scale" with the title, since the subject matter of the record goes between interpersonal and global ideas."
"We wanted a title that could talk about the small stuff and the big stuff at the same time. "A Healthy Earth" is actually from a line in our song "Multiverse" – and once we started throwing that around it really started to stick, it was catchy and not too wordy, and it also works aesthetically with the rest because of the repeated "ea" lettering."
"Conceptually, 'a healthy earth' sparks questions in my mind – what makes a healthy earth? do we live in one? is it possible to make one? Its a question, its a call to action, it provokes thoughts."
The album art for 'A Healthy Earth' is a rather nice photo of a model railway, and I wondered what the significance of this was:
"The train set was built buy Thom (our bassist) and his father some of years ago. Thom's dad has been part of the local model train society in Westchester, NY, and the train set still resides in the basement of Thom's parent's house."
"When I first went to Thom's house years and years ago and I saw the train set, I immediately started taking pictures and thinking "this would be perfect for the new album (3 or so years before it was completed)."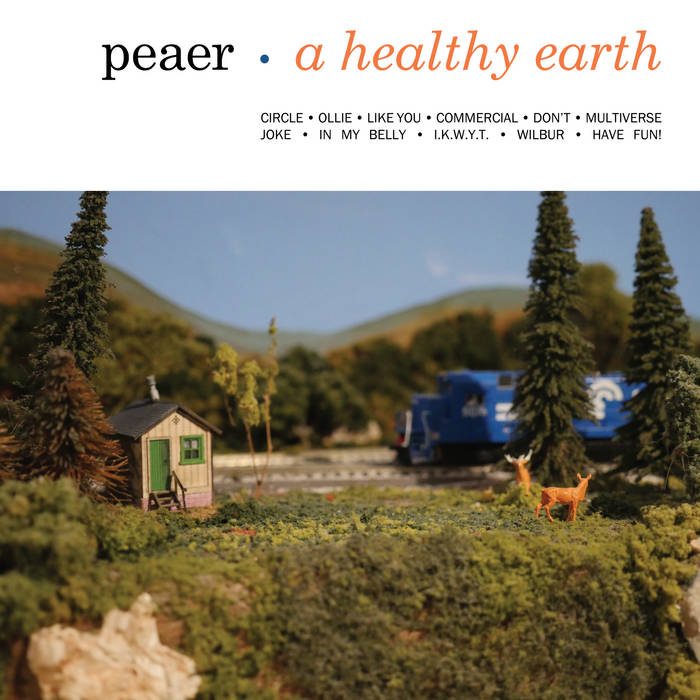 "Last summer Thom and I went back to the house with some DSLRs and took a bunch of photos with the intention of using them as album artwork. It works really well with the "scale" theme I spoke about in the first response, and its a very beautiful model."
'In My Belly' from the album features Indie-Pop icon Shamir, and Peter discussed what it was like collaborating with them on the track, and it turns out they were already friends.
"Shamir and I have gotten super close since we toured together in December of 2017, so asking them to sing was something we were eager to do."
"It was remarkably easy since their voice is amazing and they have an incredible ear for harmony. We simply sent them the song and they sang parts in a studio with their engineer, and we took those tracks and blended them into the recording."
"We knew we wanted another voice to make the middle section of the song shine and Shamir was the perfect ask. I basically just told them to "go wild" and they did!"
Second albums are apparently difficult to make, but definitely come with a lot of attention and hype from critics and fans alike; did Peaer go about making their second album any differently? Peter said so and I have no reason to not believe him:
"The first LP was very much so a snapshot of time – the band had been playing a bit in college and had these 7 or so songs ready to go, and before we all graduated and lost access to the nice studios we had at college, we decided to lay everything down."
"It was much more hands-off experience. We tracked it all and then I gave it to Jeremy (not in the band yet but still engineered the whole record) and just said "okay make this sound good" and he did!"
"This time around we were much more intentional. We took our time with the tracking and pre-production of it all, and generally spent more collective time with the album as it was being made. Editing, re-tracking parts, adding and trying out new sounds and things in order to make the record more involved. We definitely treated it as a more substantial piece."
I asked Peter what artists were inspiring the band while making 'A Healthy Earth':
Off the top of my head it would be the production and careful writing of (Sandy) Alex G, Pedro the Lion, the non-chalant-yet-daring nature of The Dismemberment Plan, the eclecticism of Duster's Stratosphere, Pinback, The Lemonheads, Life Without Buildings. A lot of the same sort of artists that have always been there for me.